The primary goal of the group is to facilitate community development through large scale collaborative projects, with an emphasis on experiential art and visually stunning events. Recent festivals and events include Burning Man, Hive-mind Halloween, Critical Massive, and SeaCompression.
---
The Insemination Station
Burning Man, 2012; Critical Massive 2012

The goal was to simulate the experience of being inseminated by light with a galaxy-like vortex of points. It was 20 feet tall at its peak, with a 40 foot diameter.
---
The Laser Clock Numbers
Burning Man, 2011

We created four giant 20 foot number benches for the worlds largest laser clock! The numbers were placed at 3, 6, 9, and 12 o'clock on the playa
---
The Unicorn Bar
Hive Mind Halloween, 2010

Every year the Space Virgins throw down for the Hive Mind Halloween party -- an event that raises thousands of dollars to donate to educational programs for disadvantaged youth. This year, we hosted the Unicorn bar, and decorated it appropriately!
---
Board The Mothership
Critical Massive, Burning Man, 2010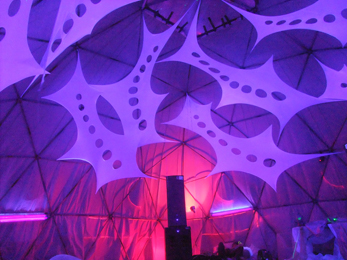 For 2010 we invited friends and family to board the Space Virgin mothership! Step inside for a window into the galaxy as the ship takes off from the planet!
---
Unicorn Rainbow Bus
Burning Man, 2010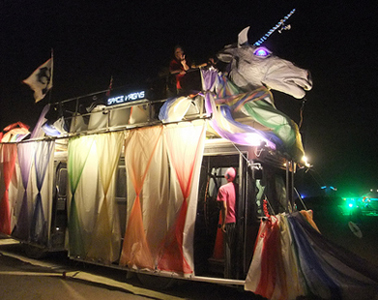 Art car bus, decorated as a Unicorn, with raindow to symbolize loving acceptance of all peoples!
---
Gare de Papillon
Critical Massive, Burning Man, 2009

In a year where our village had a plethora of mutant art cars, the dome became a space station where travelers of earth and beyond came together to embark on a beautiful journey, escorted by thousands of butterflies.
---
The Twin Towers
Burning Man, 2008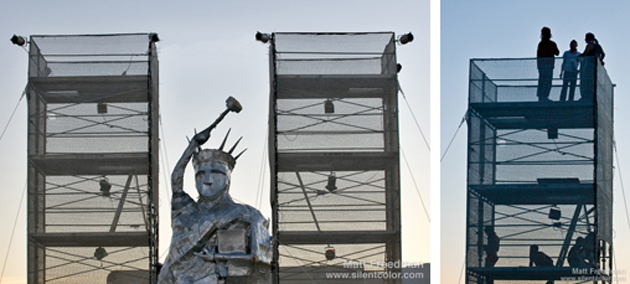 To commemorate 9/11, we built The Twin Towers on the esplanade -- a four story scaffolding structure with an aluminet shell that glowed in reds and oranges at night.
---
The Shadow Box
Burning Man, 2007

In 2007 we celebrated the joy and beauty of dance with a giant shadow box. As people danced amongst the flora their shadows were cast onto the playa.
---
The Space Station
Burning Man, 2006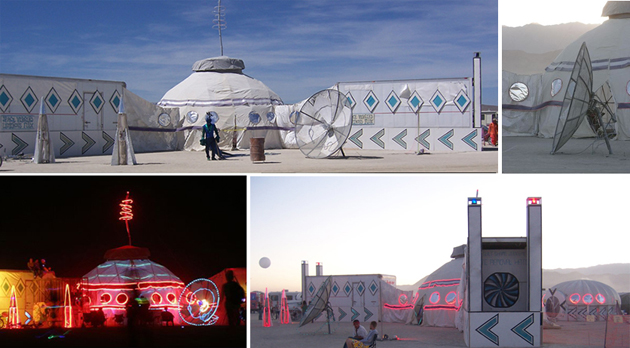 In an ongoing effort to enable earthly travelers to escape planetary boundaries and commune with the stars, we created a giant space station and stellar research facility.
---
The Space Oracle
Burning Man, 2006

Inside the Space Station, we built a space oracle to enable earthly travelers to talk to interplanetary alien sages. As they stood upon the oracle, they could ask questions using a keyboard, and their answers were projected on the space station wall.
---
The Virgin Goddess
Burning Man, 2004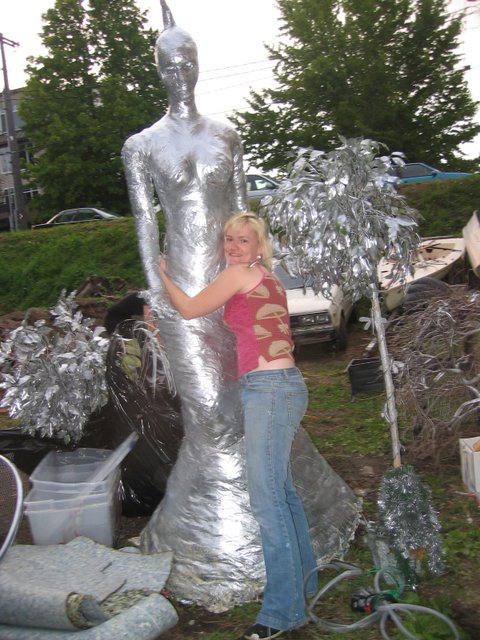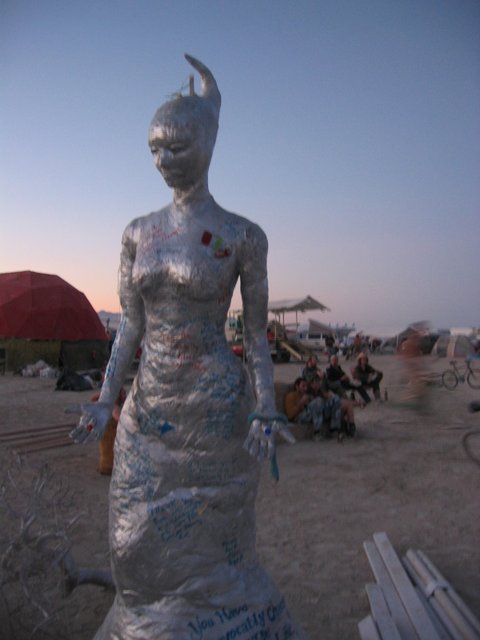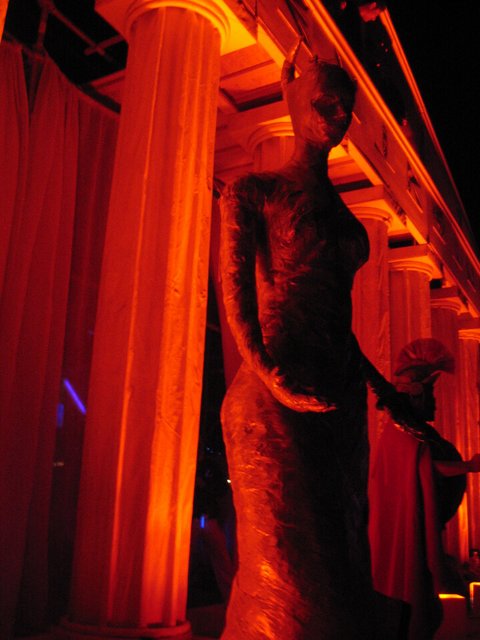 Virgin Goddess was created to play the role of a ritualistic virgin sacrifice. The structure included a fountain component, with water pouring out of her hands to bless her worshippers. People wrote notes on the form before it was burned.
---
Space Virgin Temple
Burning Man 2003, 2004, 2005, Rapture Party, SeaCompression 2003, 2004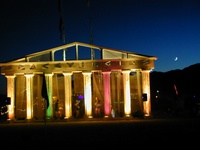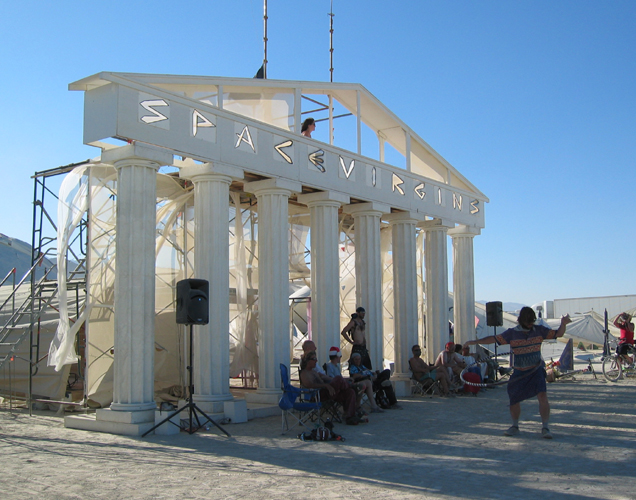 We built a 1/3 scale facade of the Parthenon. The facade was built so that people could stand in the pediment much like greek statues.
---
Slumber Dome
Critical Mass 2003, 2004, Burning Man 2003, 2004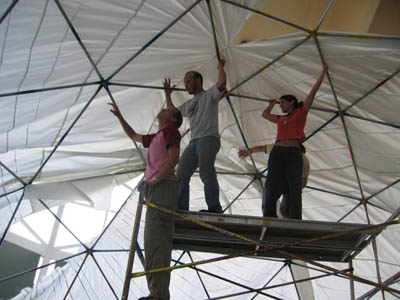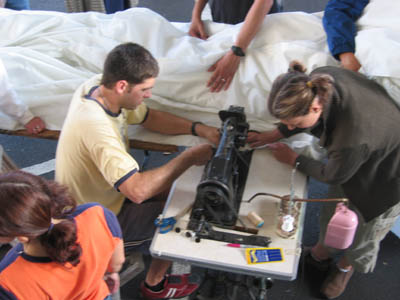 We created a 32 foot geodesic dome, with a hand sewn cover made out of sail cloth, and decorated the dome to look like a Persian pleasure palace, with draperies, rugs, and pillows.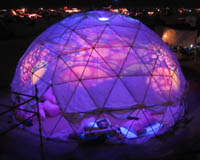 ---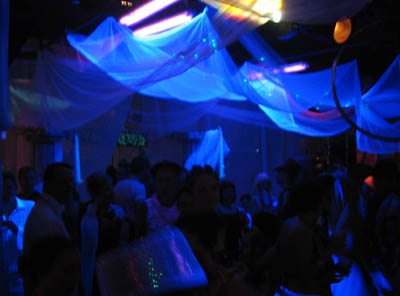 Galactic Planetarium
Critical Mass, 2004, Luminous Flux, 2004
We transformed a room into a galaxy, including a solar system with 4 foot planets and a 20 foot milky way.
---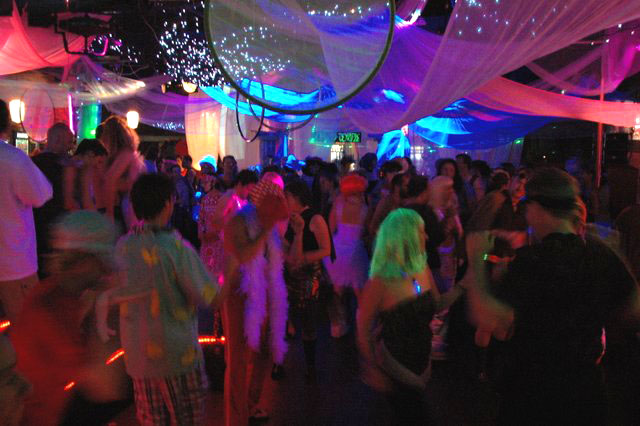 Luminous Flux: The Home Planet
2004
We created an interactive experience that emulated what it was like to land on an alien planet, including a decontamination chamber, a tourist office, an alien forest, and indigenous inhabitants that interacted with participants with unexpected cultural norms.
---
Seuss Garden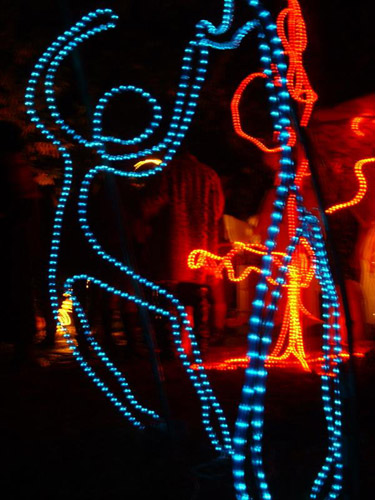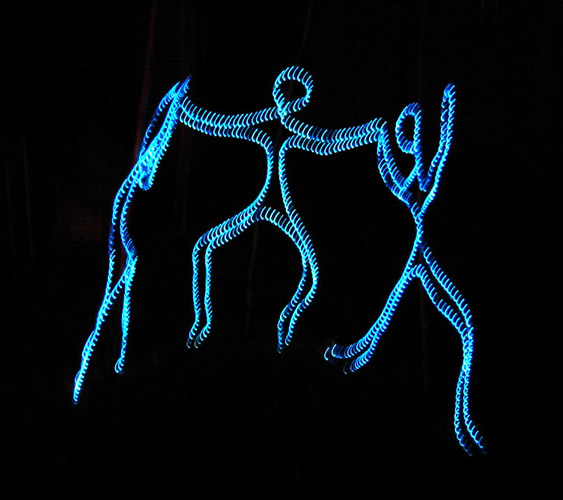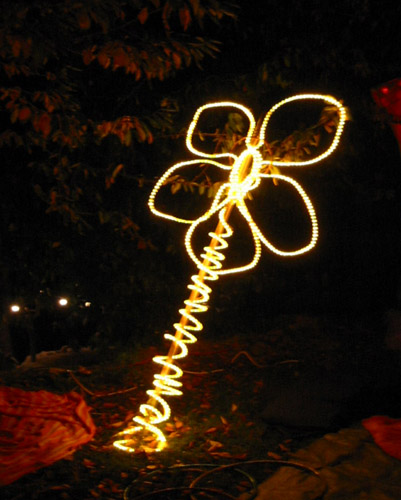 A garden made out of rope lights sculpted into 2 to 8 foot flowers, with several life-sized dancing human figures dancing amongst the flowers
---
Monsters, Skeletons, and Body Casts
Noches do los Muertos 2003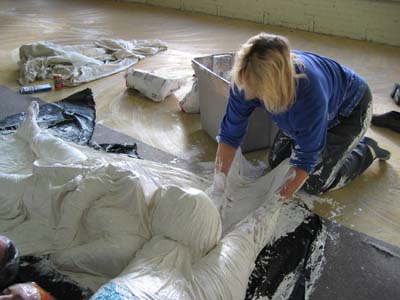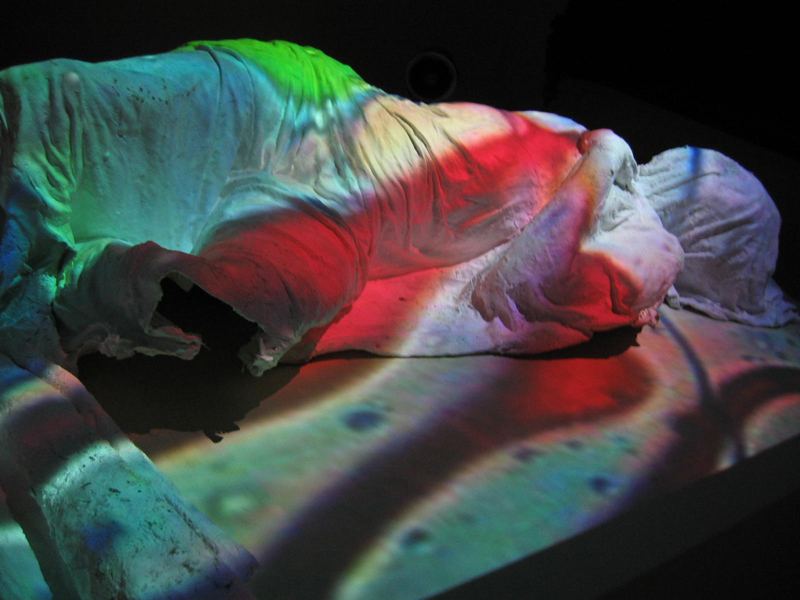 As much as possible we try to incorporate art projects into our fundraising events. For a Halloween party, we created 6 8 foot monsters cut out of plywood to allow people to stick their heads through the mouths and claws. We created five 8' dancing skeletons, and a 20' wall installation of ghosts made out of life sized plaster body casts. In collaboration with Area47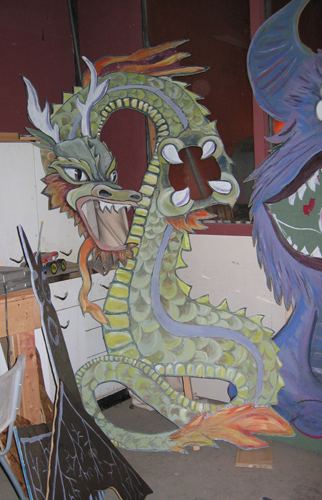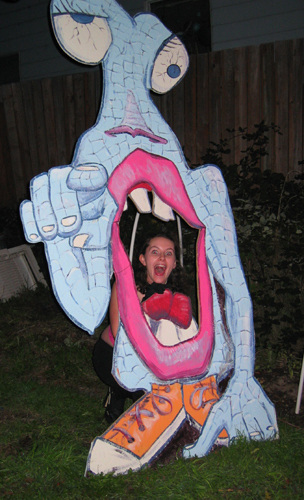 ---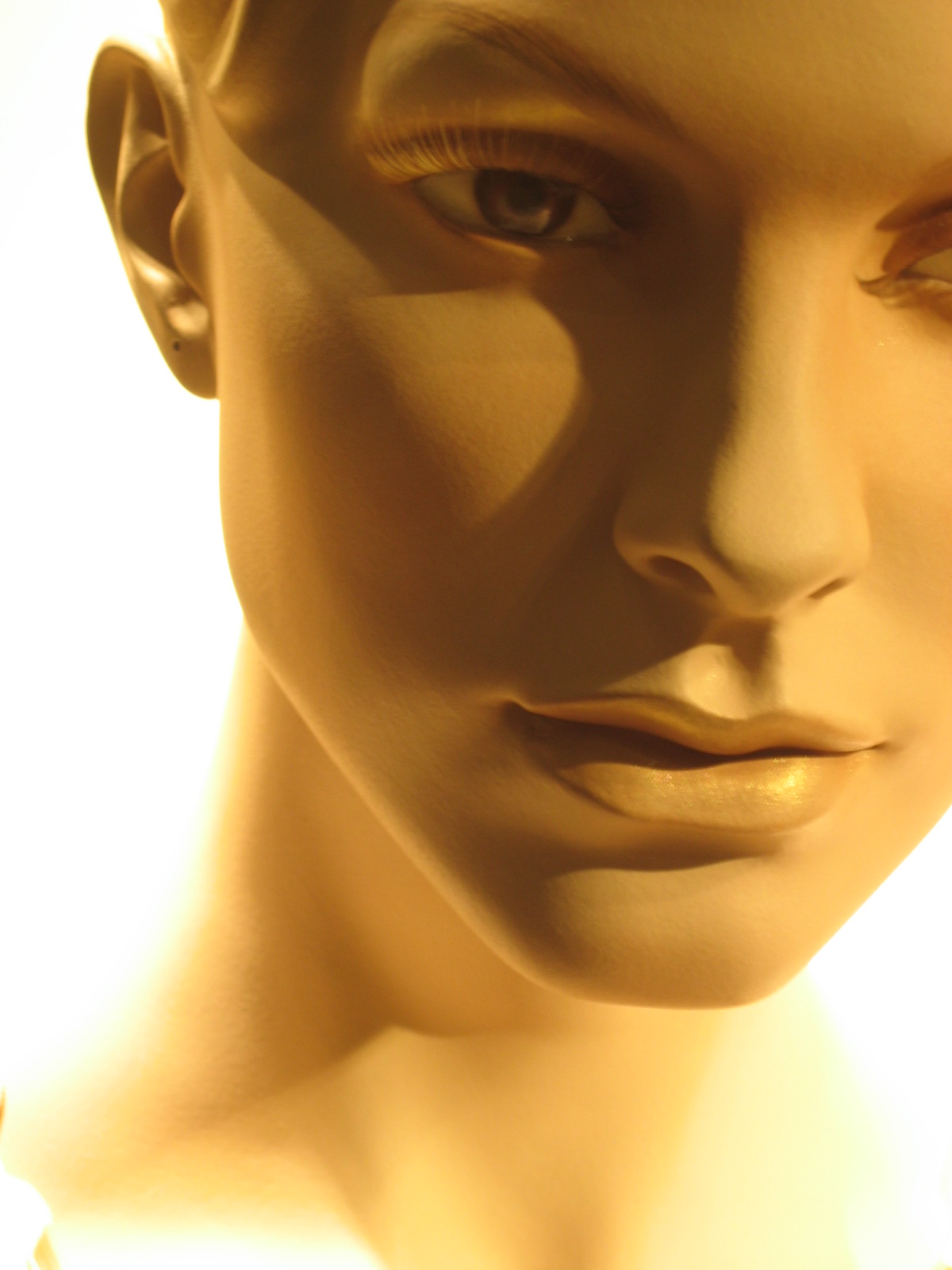 Oracle
Burning Man 2003
This project explored people's ability to make meaning out of the most random information. A booth was set up with an "Ask the Oracle a Question Sign" sign, and an arrow pointing to a button. When the button was pressed, the oracle answered from a random selection of hundreds of oracle statements found online, spoken by four synchronized female voices.
The Oracle was a 2003 Burning Man project. It was 2 x 8 booth made out of plexiglass and four mannequin heads. The booth lit up with the oracle button was pressed.
---
Underwater World
Like Virgin Party, 2002, Burning Man 2002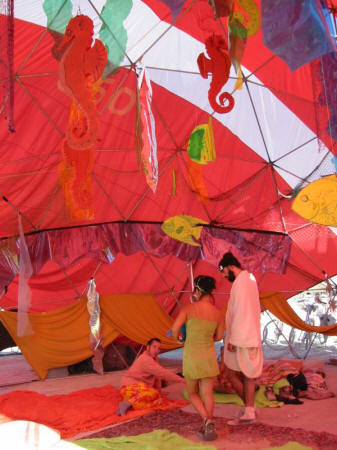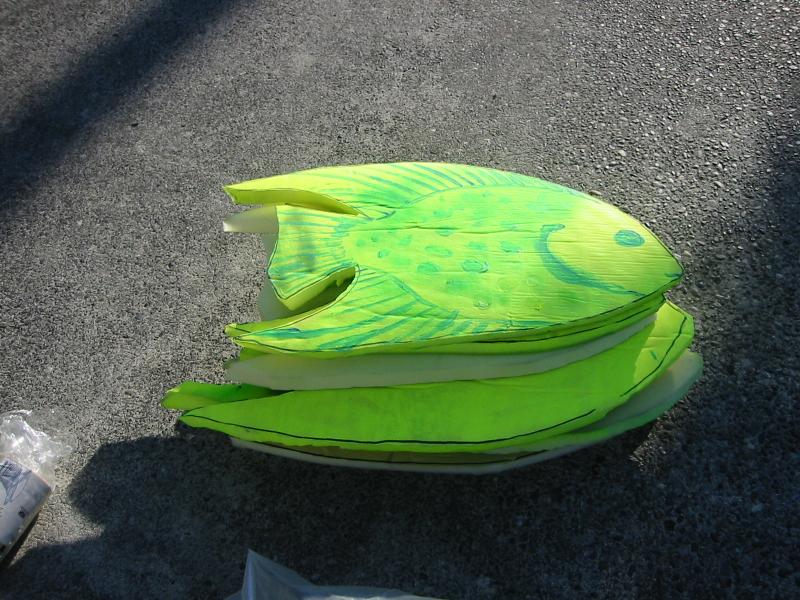 We transformed a room into an underwater world, including fish, netting, kelp, etc.
---
Strut Your Stuff Fashion Show
SeaCompression 2003, Luminous Flux 2004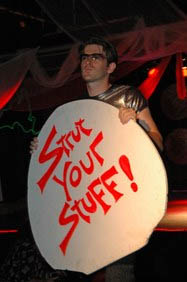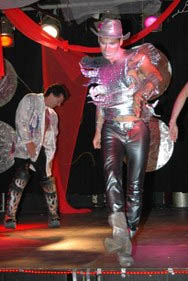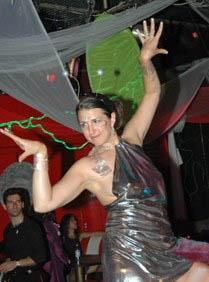 Interactive experience, having audience members at a costume parade become a part of the show. Brainchild of Pat Cole.
---
Demon Containment Unit
Burningman 2002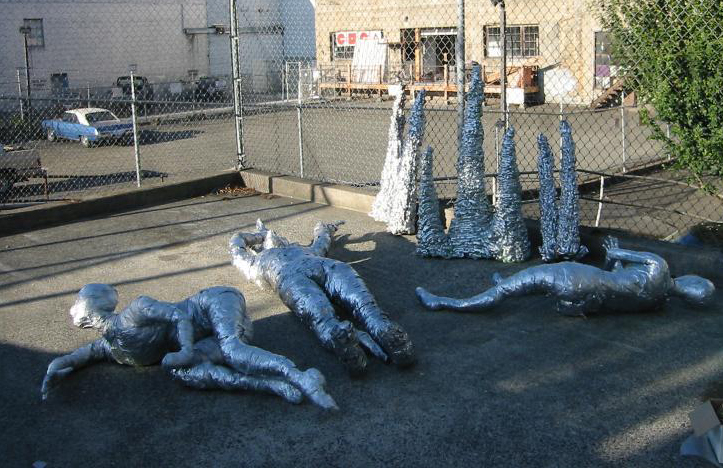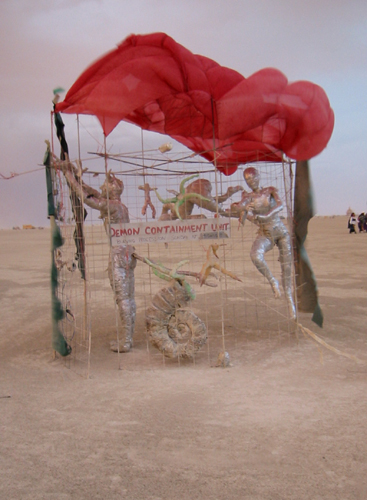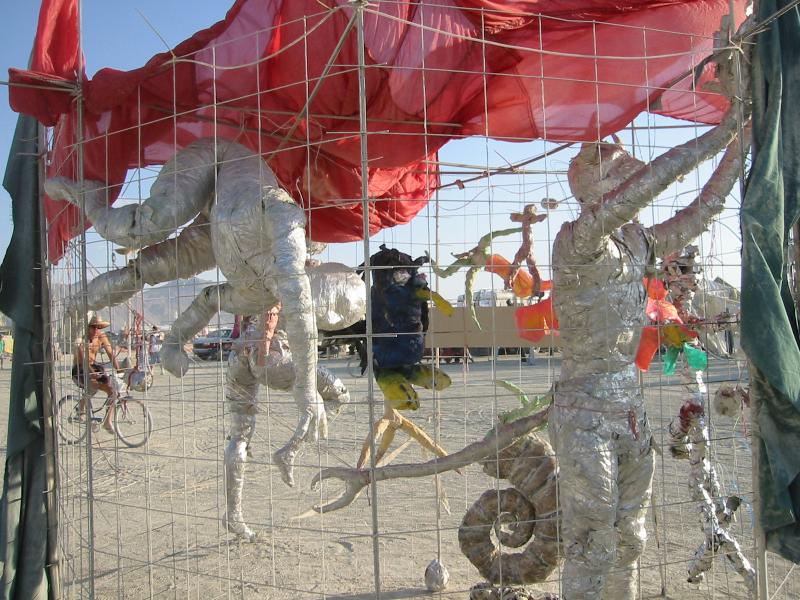 This project explores the psychological impact of making structures to burn them, knowing they represent inner demons. Several human sized demons were made as models, and then we had a "demon making workshop" to help others make demons. All demons were burned.
---
Crashed Space Ship with Interactive Musical Console and Kelp Field
Burningman 2002, Phoenix Festival 2002, SeaCompression 2002.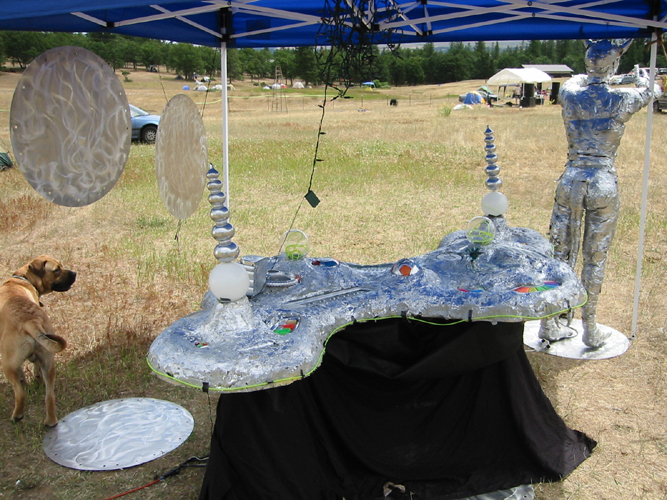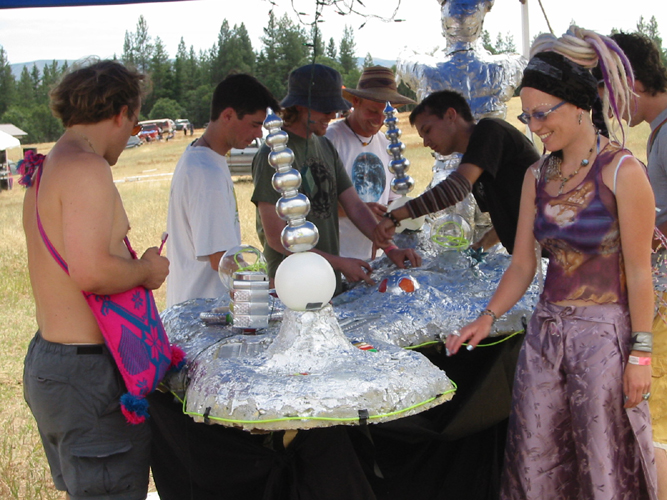 A15 foot structure shaped like a crashed space ship, crashed into an ocean floor. Inside the space ship an interactive musical console made out of 20 children's toys embedded in foam and wired to a guitar amp. This project examines how a childish sense of play may imbue people with the ability to explore new places. People could play the toys collaboratively.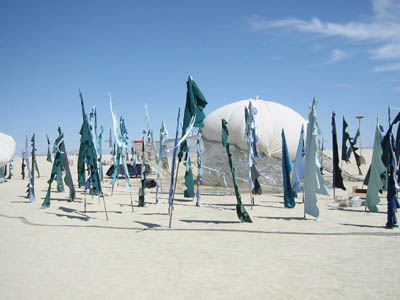 ---
Princess Cage
Burning Man, 2001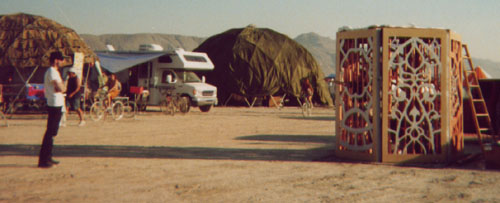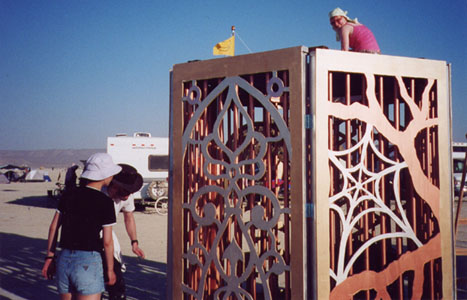 This cage was built to capture people and transform them into princesses. A trunk full of dresses was placed temptingly inside the cage. Once people were inside rummaging through the trunk, we locked them in. They then had to negotiate with passersby to be let free. This was a collaboration between Shelly Farnham, Dave Vronay and Weiru Cai
---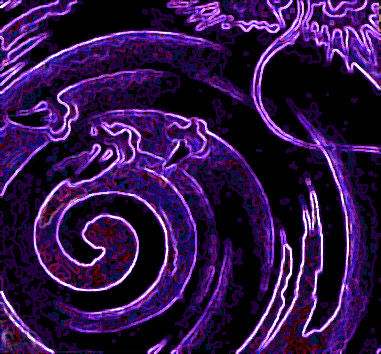 The Brain
Burning Man, 2001
An immersive, 15 foot environment shaped like a brain. In the center of the brain was a brain-stem structure with five attached holographic goggles.
---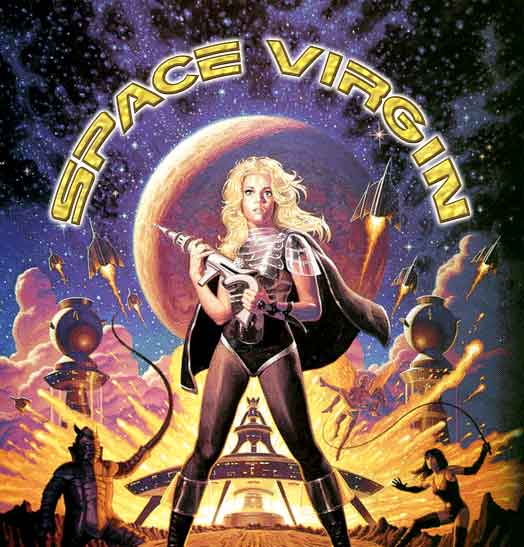 Revirginization Ritual
Burning Man, 2001
An interactive installation, occurring over a 20' x 40' staging area, where participants experience the four elements (earth, air, wind and fire) with the goal of reclaiming themselves as they existed prior to their loss of innocence.