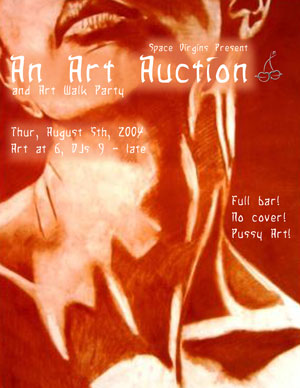 Art Auction
and Art Walk Party
Please join us on Thursday, August 5th after Art Walk (9 pm - late) for a party and auction of art works produced by the Space Virgins and our friends. Works will be on display at Red Stripe Studios in the Prudential Building on 114 Alaskan Way S in Seattle. To enter, dial 018, 020, 025 or 042, or enter from the alley in the rear between the J&M and Cafe Paloma on First.
There will be a full bar and DJs Casey Ann, DjML, and Brannon will keep the beats bumpin'.
Artists include Shelly Farnham, Daniel Doubrovkine, Tomas Peterson, Nicole Kistler, Brian Hatfield, Lara Feltin. Mara Jeffress, Casey Ann Flagg, Rachel Seelig, Joshua Sellers, Regan McStravic, Poul Costinsky, Pat Cole, Marco Gavini and Pmatt Freedman.
Questions? E-mail info@spacevirgin.org